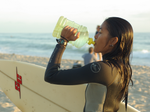 STAYING HYDRATED HELPS YOU STAY HEALTHY
Drinking water has long been touted by doctors and scientists everywhere as an important daily process for healthy living. According to
WebMD
though, there's no reason whatsoever to gulp down 8 glasses of the stuff. There is no scientific data that backs up conclusively that drinking exactly 8 glasses of water a day is the magic number. Instead, experts explain that you should be drinking enough water or even ingesting it in foods (think watermelon for example) because it is critical for your health but measuring it out is not. 
Your body needs water on a regular basis because fluid loss is a continuous process that happens from breathing, skin evaporation, and of course, expelling waste. As water is lost from our bodies, we must replace it in order to have healthier bodies. This is why we've always been told to drink water. 
But what benefits does water really have for us? Here are some of the many reasons why you should be letting your cup runneth over with plenty of water every day. 
1. MAINTAINS BALANCE OF BODILY FLUIDS
​The human body is composed of
roughly 60% water
. Your bodily functions all rely on water to help keep them going. When the body is running low on fluids, your brain triggers the thirst mechanism so when you feel like you're thirsty, grab your water and get drinking. 
2. HELPS WITH WEIGHT LOSS
| | |
| --- | --- |
| | ​It's not that water is some magical potion that erases pounds, however it helps you feel fuller. It also flushes out impurities and toxins in your system. And if you're used to drinking soda (even the diet kind) with all your meals, replacing it with water will help you cut calories, which will in turn lead to weight loss. Water can truly help you see a difference in your weight loss goals if you use it to replace beverages that have high calories and sugar.  |
3. ENERGIZES MUSCLES
​If you like to exercise and you want your muscles to look good, keep drinking your water. Cells that don't keep up the balance of fluids and electrolytes will shrink up, leading to muscle fatigue. According to the
American College of Sports Medicine
, you should drink around 17 ounces of water about 2 hours before your exercise and that you should keep drinking it regularly to avoid dehydrating while your body is busy sweating. That's why it's so important to take along a good and reliable container of water with you when you're exercising. 
4. HEALTHIER SKIN INSIDE AND OUT
Water helps keep your skin looking younger and firmer. While it won't erase wrinkles and fine lines, it will definitely help keep your skin plumped up, clearer and more beautiful than if you were to let yourself become dehydrated. When you drink more water, it also
helps regulate your skin's oil production
and helps keep the balance so your skin looks even-toned, fresher, and bouncier. Oh and those unsightly dark circles you despise? You'll see less of those and puffiness too if you drink enough water each day. 
5. HELPS THE KIDNEYS FUNCTION OPTIMALLY
Everyone has that one friend that always gets kidney stones. Avoid that kind of pain by drinking enough water! Your kidneys are in charge of getting toxins out of the body and will do a great job of it as long as you're getting enough fluids like water. Are you drinking enough water? Your urine should be light in color and odorless. If not, your kidneys are working extra hard and you're more prone to kidney stones. 
6. KEEPS EVERYTHING MOVING ALONG
​When you stay hydrated with enough water, your gastrointestinal system keeps things moving along and you'll have regular bowel movements. Keep your systems clean by keeping them moving or else you could wind up with constipation or something much worse. Clean water has been shown to help
prevent certain types of cancer
, like colon cancer which is the third most commonly diagnosed cancer and the second highest death rate of all types of cancer. 
7. LESS HEADACHES AND FATIGUE
If you get

 

headaches

 

regularly, before you try anything else or take over-the-counter medication, try drinking water. Most headaches could have been prevented in the first place if you simply drank enough of it. Your body is telling you it's dehydrated. On top of that, it's also working harder to perform simple functions. 
​The cells in your body need water to do their part right and if you don't give them enough of it, you'll feel it in the form of fatigue and headaches. Drink more water for a week and you'll notice a vast improvement in your energy levels and how you feel overall. 
8. BETTER PERFORMANCE, BOTH MENTALLY AND PHYSICALLY
​As we mentioned, water is necessary for proper cell functioning. That's why when you drink enough of it, you'll be able to think more clearly. And you'll perform better too in athletic challenges, whether you're merely trying to beat your last lap around the track or you're competing in a marathon.
9. REDUCED JOINT PAIN
​For those with joint pain, it can lead to lost mobility. You feel feeble and old even when you're nowhere near an age associated with old. Your
joint pain
could be from sports injuries or several other factors including your genes. But whatever the cause of your joint pain, you can reduce it by drinking enough water. Water softens the cartilage at the joints and keeps it hydrated. Which means when you move, you don't feel pain. 
HOW TO DRINK MORE WATER
Now that you know why it's so important to
drink enough water
, you've got to be sure you're getting enough of it. There's no need to measure out 8 full glasses a day, drink them all and then say, "Ha! I'm done for the day!" Eight is not a magic number here. It is simply a guideline designed to help you at least get the minimum your body needs. If you truly want to reap the benefits of drinking enough water, you should listen to your body and spread out your water consumption throughout the day. 
There's no point of drinking a day's worth of water first thing in the morning. Plus, too much water at once can lead to
water intoxication
because your kidneys can't process it all at once. While that's very hard to do, being aware of your water intake and spreading it out through your day is your best bet for good, clean healthfulness. 
If you want to make sure you get in the right amount of water every day at regular intervals, here are some tips to help you drink more of it to improve your overall health with each day.
- DRINK WATER WITH EVERY MEAL
​For breakfast, lunch, and dinner, have a glass of water along with it. If you're trying to lose weight, drink that glass of water about 10 minutes before you eat. This will help keep you full and prevent you from overeating. When you have a snack, you should also have water with it too in order to help your body process the nutrients faster. 
- ADD LEMON TO YOUR WATER
| | |
| --- | --- |
| Fresh lemon adds a nice flavor to your water. Plus, it adds more vitamin C too which is great for the body with all its antioxidant powers. Or if lemon is not to your taste, you can easily add apple slices or orange slices. Make your water infused with your favorite fruit. It will help you drink more water. | |
- EAT MORE FRESH PRODUCE
Fresh fruits and vegetables have a high water content. Eating them adds to your hydration. It is from the foods we eat that we get about 20% of our overall hydration. This isn't a substitute for drinking water, but if you are eating fruits and vegetables, you're giving your body what it needs. Whenever possible, go for organic options to avoid ingesting toxins and pesticides. If budget is a problem, go for the
EPA's
clean 15 and make sure you go organic on the dirty dozen. 
- KEEP A BOTTLE OF WATER WITH YOU EVERYWHERE YOU GO

Experts agree that one of the best ways to make good on your promise to yourself of getting better hydration is to take a water bottle with you everywhere you go. Take one with you to work. Take it to the gym. Take it with you in your car. And take it with you as you move through the rooms in your home.

A water bottle like the Bluewave Daily8® Water Jug is a great choice because it contains a 64-ounce capacity which is ideal for keeping hydrated and healthy all day long without having to worry about refilling it.
What's great about the Bluewave Daily8® Water Jug is that the opening is large at the top, making it easy to pour into a cup or add fruit slices like lemons, oranges, berries, or even cucumbers to make a refreshing flavored water variety you'll want to gulp down. It comes with a removable straw too if you'd prefer to use that or drink from the pop-up cap that keeps the water bottle contaminant-free. It also comes in 4 different colors to suit your style and is made from high quality BPA-free plastic.
A water bottle like this is a smart way to make sure you're getting all the hydration you need every day no matter where you are. You can simply fill it with your pure, filtered water at the beginning of the day and always have clean, fresh water with you anywhere. By the end of your day, if you've drank the entire contents of your Bluewave Daily8® Water Jug, then you have supplied your body with at least enough water. If you drink more than that in your day, then you're staying completely on top of this hydration thing. 
The Bluewave Daily8® Water Jug also makes a fantastic gift for your favorite gym rat, expecting moms or anyone who could do with a drink to their health. Get one
here
in your favorite color today!