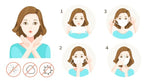 Wearing a mask will help limit the transmission of Covid-19 and will help save lives.
It is important that you have high quality masks that have a high bacteria filtration efficiency (BFE). A mask with BFE 99% will work better than a mask without any filtration or low filtration. If you have homemade masks, make sure you allocate the middle layer for removable filters. Do not skimp on quality masks and quality filtration. 
Here are steps to properly wear a mask.
1. Wash your hands and ensure the proper side of the mask faces outwards (usually white inside and color side outside).
2. Press the metallic strip to fit the shape of your nose. Adjust accordingly for a comfortable fit.
3. Secure the strings over your ears, without touching the main part of the mask.
4. Cover mouth and nose fully, making sure there are no gaps.
Do not touch the mask while using and remove the mask from behind by the strings. Remember to always wash your hands, before and after use!
If you need high quality face masks for you and your family, you can purchase it on our website at: Single use Face Masks
Stay safe and healthy!